the next evolution to dtf printing
introducing the a3 prestige Printer for dtf
Congratulations on your new Prestige Desktop DTF printer! In this video we will go over step by step how to get your new machine up and running for high quality direct to film transfers. We take you start to finish with inspection, ink charge, waste bottle installation and more!
This user friendly and conveniently sized machine is ideal for easy production and quick application to almost any fabric or material you can think of. All American Print Supply is your one stop shop for all for all of your garment printing needs.
Still looking for the perfect gift this Mother's Day? We got you covered. Choose from our delicate gift set collection or customize your own.

"Execute what you've practiced."
- Kobe Bryant (Bryant's 10 rules)
DESKTOP DTF IS FINALLY HERE
If you have been making the rounds at the tradeshow circuit this year or following any of our convention coverage on YouTube you already know we have been so excited about what I am about to tell you: We have begun shipping our own line of direct to film printing and drying equipment! Reception on the road so far has been amazing and we are so happy with how everything came out. DTF has been going crazy over the last two years and to see how far things have come and to help advance the stability of this practice for our industry is huge. Let's take a look at what we got!
The Prestige Desktop DTF Printer capable of up to 13" x 19" films and produces up to 2880 x 1440 dpi and delivers bold, vibrant transfers. The Prestige DTF Printer is a reliable and affordable way to start or EXPAND your t-shirt decorating business. Start creating your own direct-to-film transfers at the home, at the office or take this setup to events and print custom shirts. Print on various types of fabrics such as cotton, canvas, polyester, blend, nylon, rayon, rubber materials, and more. Running off of US standard 110v electricity, this machine is going to help so many people and comes with the multi layered, tiered support of the AA Advantage.
Next up I want to touch on the new Phoenix DTF curing oven – we have had so many of our direct to film clients asking about this one and it is HERE! Available in 16" x 20" sizing, this is going to stream line your film production 10 fold. Before this oven we had some options for curing our direct to film transfers and hot melting powder; a conveyor dryer is nice but not everyone has the volume or space for such a piece of equipment – I learned direct to film personally hovering with my heat press which works, but comes with a couple caveats: First, my heat press is now occupied from applying other transfers. Second, this is extra time in my production and while it works may not be the most efficient way to operate or SCALE. Combined with a digital control unit that is easy to set and allows precise settings of temperature and time for consistent results, the fusing process is started at the touch of a button and alerts you when its ready. BOOM.
Everything is live on the site NOW so head over to AAPRINTSUPPLYCO.com to take your printing business to the next level and be sure to subscribe to the YouTube channel for more info on this killer new set up!
For more details on the Prestige A3+ Printer for DTF, visit here!
-Estevan Romero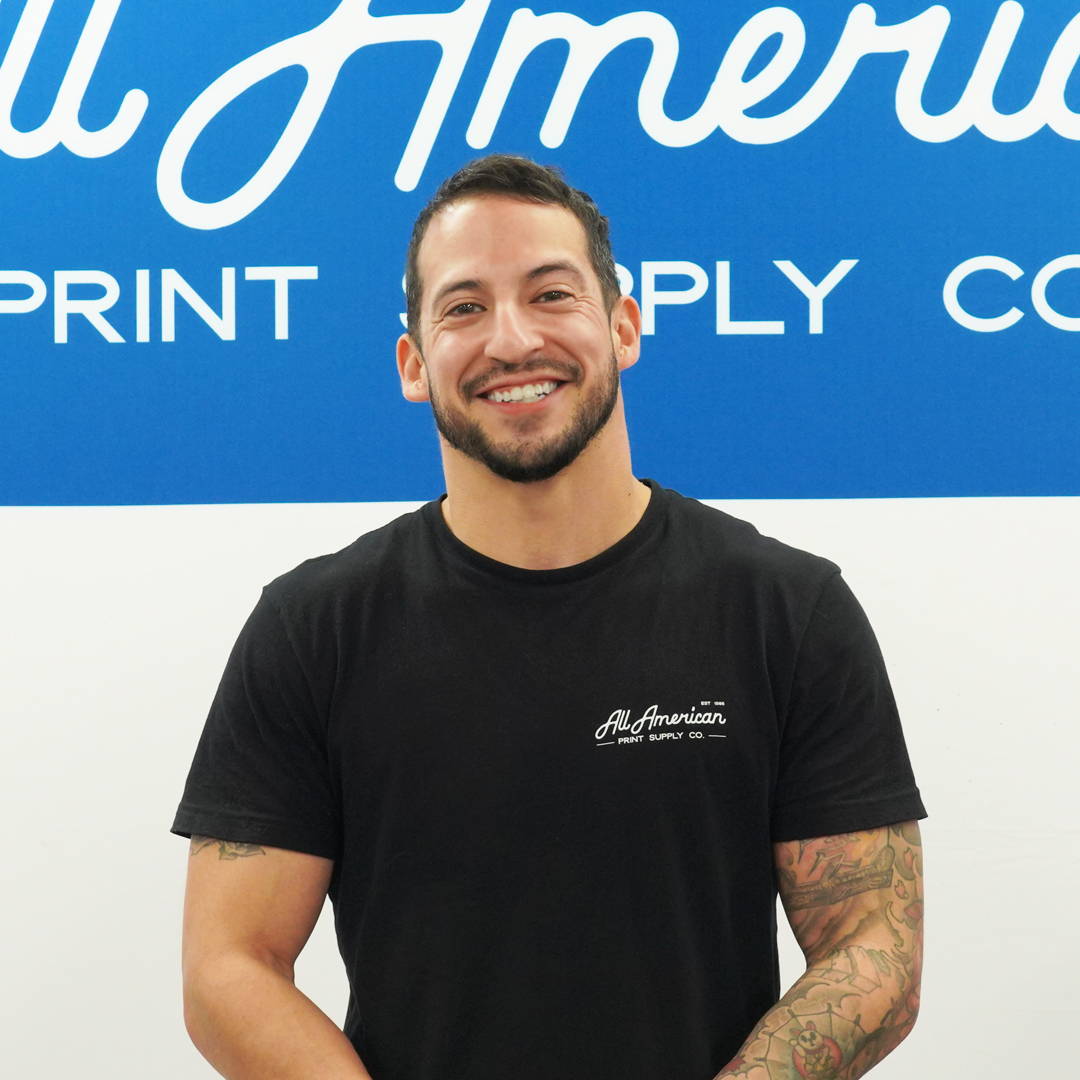 Esteven Romero began making YouTube videos back in 2017 to help new business owners learn how to use their products and grow their operation. He has been featured in many companies content such as Siser North America, Key Print Co and more. He has been featured as a speaker/presenter nationwide across the tradeshow circuit sharing information and insight to the print community audience and brings 13+ years of experience to the table.
You can meet Estevan and more of the friendly All American Print Supply Co team by visiting the company live events calendar and our YouTube channel.