PHiladelphia we love you!
"Cause a little bit of summer is what the whole year is about"
- john mayer
With the close proximity of Graphics Pro Expo Meadowlands just up the Jersey Turnpike to our Philadelphia office, we thought it would be a great idea to keep the party going the following weekend with an Open House! When the tradeshows happen to land near any of our locations, we rally the troops and throw a miniature tradeshow of our own in a more spread out, intimate setting where we can really connect with our audience in person. All American Print Supply open houses typically feature the same trade show floor deals, more equipment pieces and more demonstrations. Not to mention food and refreshments - which is my favorite part. This year's open house was such a success and we owe a big thank you to all of our Philadelphia Branch for putting on such a fun gathering.
A few days before the open house kicked off, a number of us from across the US flew in to work together to make sure everything was just right. Over the last few months we have been debuting product after product so this was a great learning experience for everyone involved. If you have never been to our Philadelphia location, it is certainly worth a stop the next time you are in the area. The city is rich with history deep rooted in our country with nearby landmarks such as the Liberty Bell and the famous steps Rocky Balboa trained on in the namesake movie franchise. In the spirit of the location, we also catered in a Philly food staple: hoagie sandwiches! A lighter fare from your typical Philly Cheesesteak, these sandwiches are super tasty.
Let's talk about Day 1: Foot traffic never seems to be a problem here and the customers started coming in as we were putting the final touches on things pre opening. We were very pleased with the crowds Friday and happy to hear a number of attendees heard about the event the weekend prior at the aforementioned Graphics Pro Expo at the Meadowlands Exposition Center. Familiar faces I hadn't seen in forever made the time to stop by and even conduct some on camera interviews sharing their experiences as long time customers or "members" of the All American Print Supply family. I use those words because it echoes the sentiments of the folks we spoke with: when they come to All American they are treated like family. Really heartwarming to hear the level of service our team on the other side of the country strives to deliver.
Day 2 I am happy to report it went off without a hitch! We had some custom apparel YouTubers from the print community make the time to stop by and we were all able to get some content together. Day 2 was a little more heavy on the demonstrations and they were very well received. If I am not mistaken, over the course of just two short days we were able to basically empty the entire demo room of printers big and small and find them their new forever homes with folks excited to expand their business. One big hit that has been wowing audiences these past few months has for sure been our new line of dual station shuttle heat presses, the Proxima. For more info on these functional equipment pieces, be sure to check out our recent blog post here.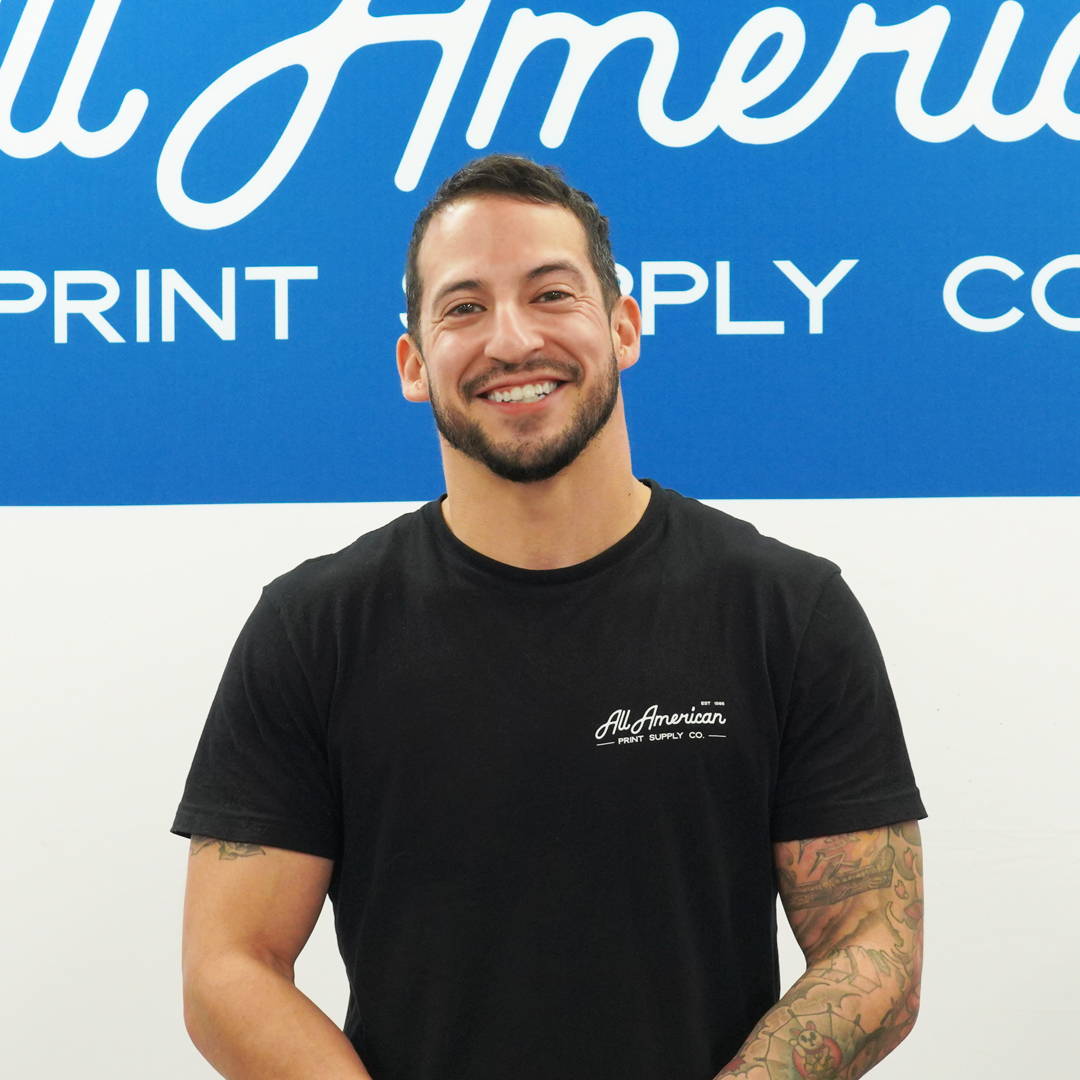 Estevan Romero began making YouTube videos back in 2017 to help new business owners learn how to use their products and grow their operation. He has been featured in many companies content such as Siser North America, Key Print Co and more. He has been featured as a speaker/presenter nationwide across the tradeshow circuit sharing information and insight to the print community audience and brings 13+ years of experience to the table.
You can meet Estevan and more of the friendly All American Print Supply Co team by visiting the company live events calendar and our YouTube channel.