Life in the day of All American Employees
"When you're working with your friends, it doesn't feel like it's work."
- Ken Jeong
In this edition of the All American Employee Spotlight I sat down with Jonathan Ramirez (or Jonny, as we know him locally). Jonny is a Warehouse Associate at our California location and I wanted to ask him about his role in the company and some insights about life, the universe, and the CA branch's warehouse. Let's slide right into the question and answer portion (which is my favorite).
Steven: What is your full name ?
J: Jonathan Ramirez
S: What is your role here at All American Print Supply?
J: Warehouse Associate
S: Do you prefer DC comics or Marvel comics?
J: That's a tough one. I grew up with DC, but I've been getting more into Marvel. I would have to go with DC, though.
S: How long have you been involved in the printing/printing supply industry?
J: I'm actually relatively fresh. My first real experience was when I first started working here at All American. Before this I had no real knowledge [of the printing industry].
S: What is your favorite Pokémon?
J: It has to be Snorlax.
S: What were you doing for work before you came here?
J: I was taking a break between this job and my previous one. I was working at Subway when the pandemic hit and I lost that job. Then I just focused on school full time until I found this job.
S: Pineapple on pizza: yay or nay?
J: I don't mind it. It's a preference thing, but I enjoy it.
S: Go ahead and run us through a typical day in the CA branch's warehouse:
J: After clocking in I turn on the lights in the warehouse (if they're not already on) and check to see if things are in order. If not then some reorganization will happen.
After that I get started on the orders for the day: shipping, packing, shipping, packing, etc. From time to time vendor orders will come in that use freight, UPS, FedEx, and any other shipping company. We'll receive and organize those orders. I just try to make things as smooth as possible.
S: What color lightsaber would you want?
J: Orange
S: How do YOU think your role impacts the company as a whole?
J: The warehouse team is the [first] to be hands-on with the equipment and products. We can easily get the inventory we have on hand to answer stock questions from the orders and sales departments. We quantify the items we receive to have accurate inventory. Our dedication to working efficiently alongside other departments is essential to keeping the business running smooth.
S: Do you prefer coffee or tea in the morning?
J: Coffee
S: What do you add into your Chipotle burrito order?
J: I don't eat at Chipotle. I cook better food at home.
S: Do you have any advice or quotes you try to live by every day?
J: I always try to act like the person I wish to become and to bring that person to fruition.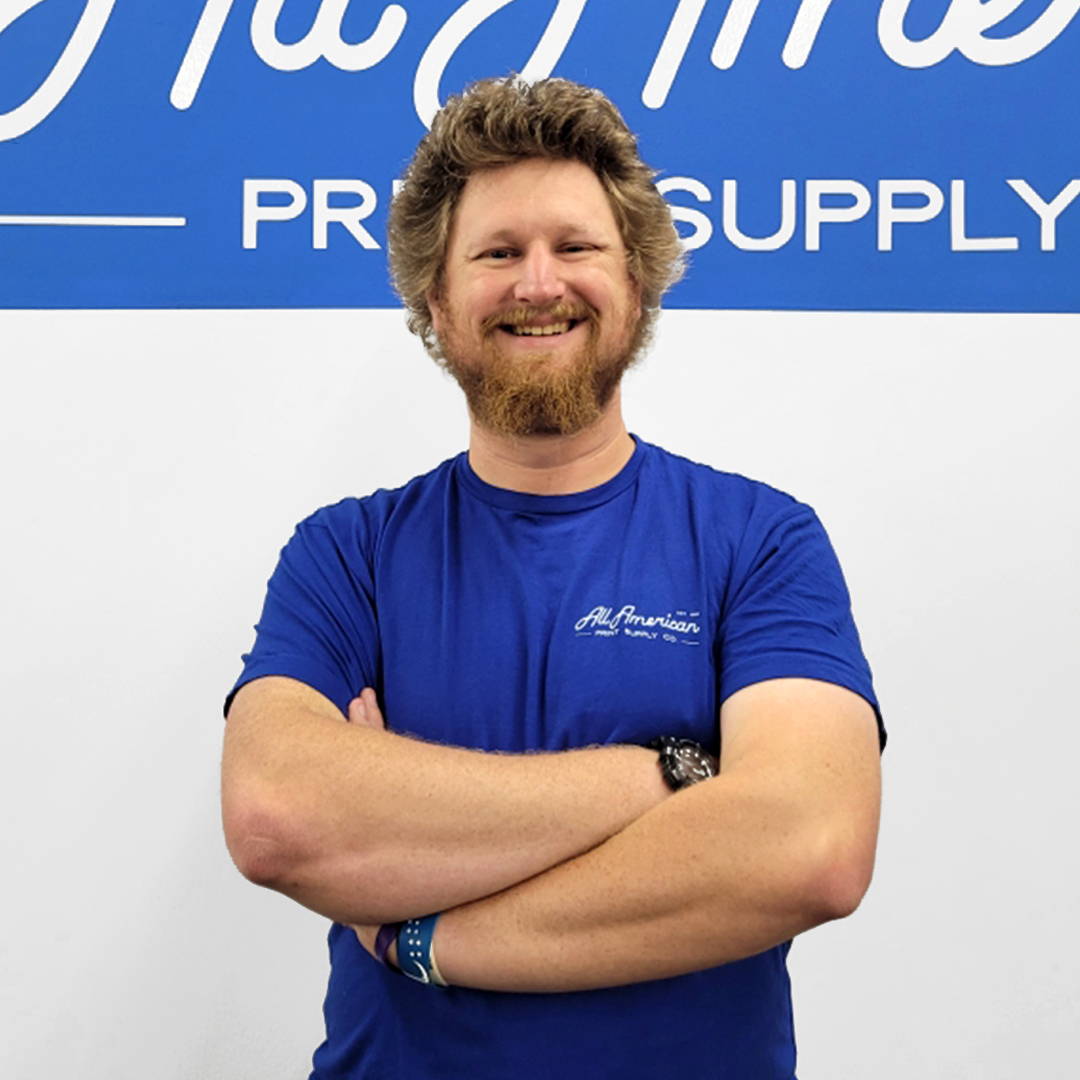 Steven has 10+ years of experience in the E-commerce space with an emphasis in storefronts and product listings. A classical connoisseur of the internet, Steven spends his free time staying away from it. Instead choosing to be a dad and disc golfer.
You can meet Steven and more of the friendly All American Print Supply Co team by visiting the company live events calendar and our YouTube channel.