That's right, Kodak is on board with direct to film in a big way!
Kodak joins the dtf gold rush
"I knew I was going to be slugged up, my whole mouth gold."
It's safe to say we can officially call 2022 the year of Direct to Film. We have had such advancement in this field of digital textile printing like nothing that has come before it. It has been said that the breakthrough surge we have seen in regards to accessibility and stability is largely in part to the fact that we have been down this road, of sorts before with Direct to Garment printing. Every hurdle, roadblock and issue in some way, shape or form has already come to light with the progression of DTG. Who did I get this nugget of insight from? None other than one of the newest players to the game, KODAK (specifically, Kodak's DTG and FTF product manager Grant French). That's right, Kodak is on board with direct to film in a big way.
Being a global technology company who focuses on print and advanced materials, this is the perfect fit for the Kodak company. They provide industry-leading hardware, software, consumables and services primarily to customers in commercial print, packaging, publishing, manufacturing and entertainment. In January 2022 Kodak officially joined the Film to Fabric (DTF) gold rush of printing projects. On this new venture, Grant French shared "We are pleased to announce the entry of Kodak into this market, giving customers access to a high-quality, lower cost business option to create amazing, printed fabric projects". It was with all of this in mind that Kodak formally introduced KODACOLOR Film-to-Fabric.
For end users currently running direct to garment printer operations they can further expand their offerings by seamlessly integrating the KODACOLOR system which includes inks, film and powder. Additionally, for print shops who may not have yet taken on direct to garment printing, the KODACOLOR solution system and want bring in services for fabrics other mostly cotton blends are fully compatible (and safety certified) for use with the full range of dedicated direct to film (DTF) printers we have seen flooding the market lately. To that point, we here at All American Print Supply have seen tremendous success with the Prestige line of equipment in this field - so much so that we recently had the opportunity to collaborate with the Kodak company while exhibiting this year at the grandest stage of them all for our industry: Printing United.
Customization of fabrics for garments, accessories, upholstery and soft signage is growing which represents a significant business opportunity for Kodak in the FTF, DTG and wide format printer industries so this union between our two companies was a no brainer. While exhibiting at their tremendous booth presence in Las Vegas this October at the highly anticipated return of the Printing United tradeshow we were able to display some of the goods we created using the KODACOLOR DTF film and the Prestige line of printing machines. Offerings included cotton, cotton blend, polyester and canvas products highlighting the quality and versatility that is direct to film. When Kodak entered the DTF space we already knew the quality and reliability they bring to the table and after speaking in length with Grant French (who, unbeknownst to myself, has an extensive background in building out what we know as the direct to garment industry today) it was easy to see why.
Be sure to check out the content we put together and the wise words we were able to capture from Kodak at Printing United this year and stay tuned for big things coming from KODACOLOR and All American Print Supply.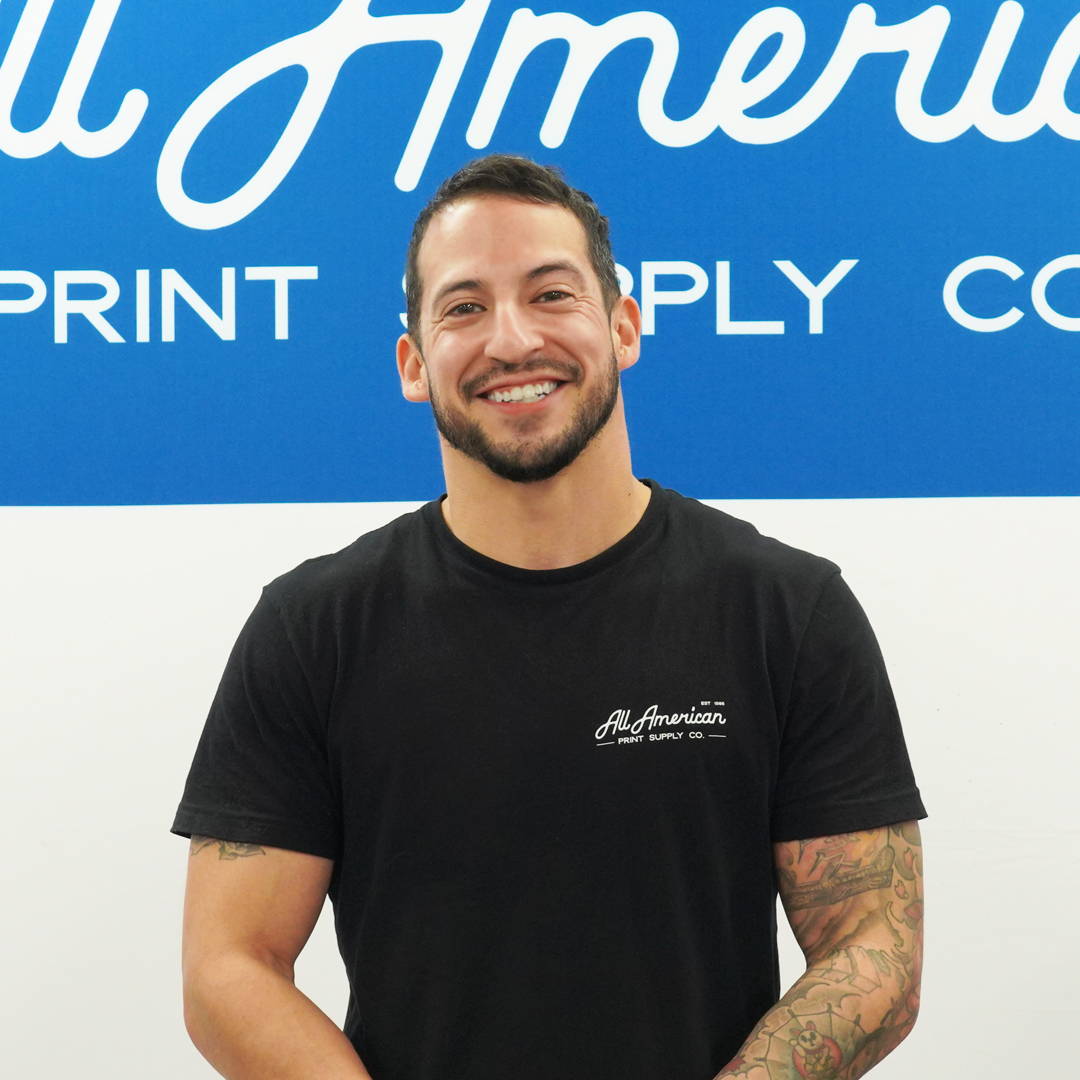 Esteven Romero began making YouTube videos back in 2017 to help new business owners learn how to use their products and grow their operation. He has been featured in many companies content such as Siser North America, Key Print Co and more. He has been featured as a speaker/presenter nationwide across the tradeshow circuit sharing information and insight to the print community audience and brings 13+ years of experience to the table.
You can meet Estevan and more of the friendly All American Print Supply Co team by visiting the company live events calendar and our YouTube channel.