Trade-In & Upgrade your prestige dtf printer!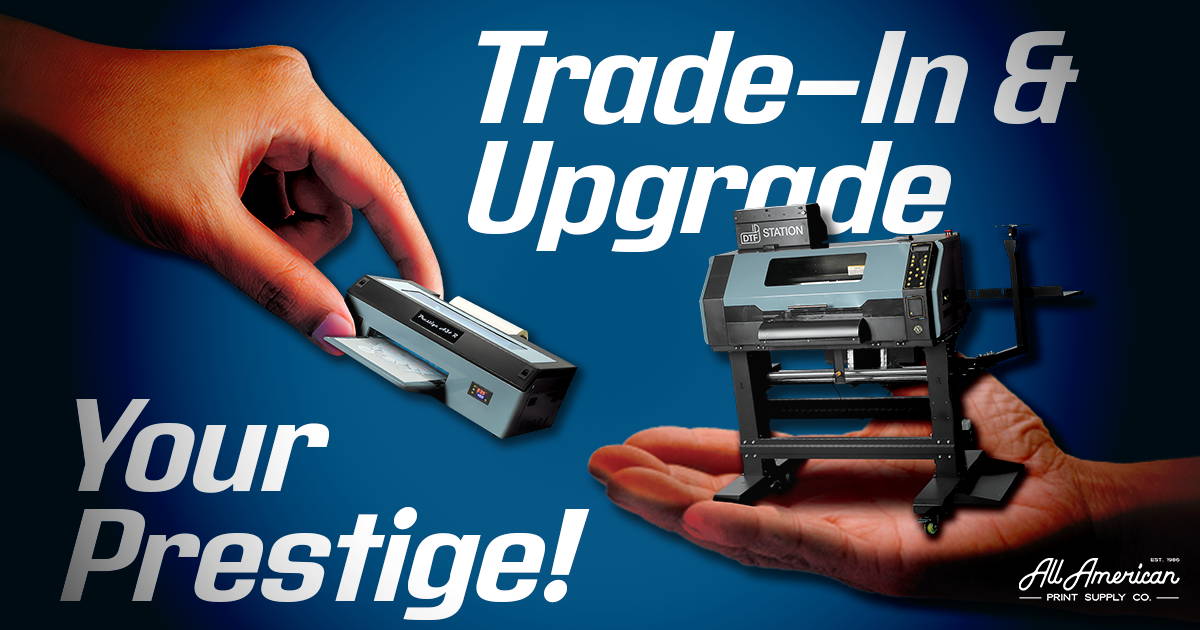 "Every man lives by exchanging."
The month of May brings some surprising news from one of our favorite vendors: DTF Station. If you are reading this article, chances are you may have heard a thing or two about the Prestige A3+R direct to film printer. This desktop model has helped countless small businesses begin their journey into DTF printing and is one of our most popular products. This starter machine is ideal for learning direct to film, but what happens when we get past the learning stage and things start to take off? We are pleased to announce, for a limited time only, the DTF Station trade in program for all of the A3+ and A3+R printer customers out there.
We mentioned the A3+ and A3+R as starter direct to film printers - something to learn the DTF process on. DTF Station has built out a robust line up of different models to accommodate different production volumes with varying levels of speed. If you have been running your A3+ or A3+R machine and feel you are in need of higher job output this program is for you! Let's take a look at the machines you can upgrade to through this trade in program.
Prestige L2 (16") and Prestige XL2 (24") - these production powerhouses come loaded with features and safeguards to ensure smooth and efficient operation. Stand out takeaways from these models will be the upgrade white ink management system. Automatic ink agitation and circulation keep the viscosity of the white ink at the optimum level for perfect prints with no banding. Head strike sensors keep a close eye on the media feed, preventing any sort of incidental contact with the most valuable parts of the machine - the dual Epson i3200 print heads. It is this dual print head set up that produces volume at 60 sq ft/hour (L2) and 100 sq ft/hour (XL2). These machines both come with heavy duty rolling stands with an included bracket system for a computer and monitor.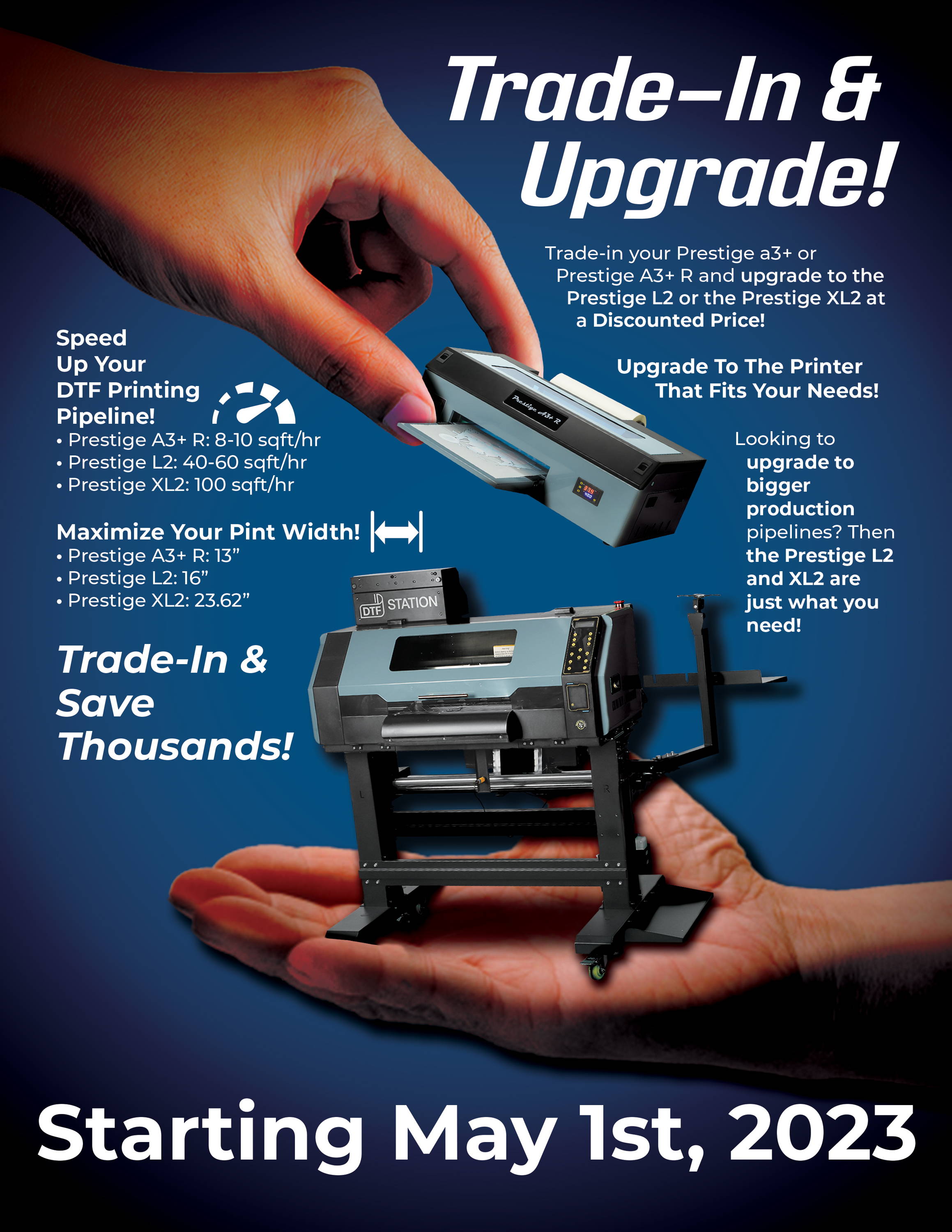 For a limited time, DTF Station is allowing owners of the 13" A3+ and A3+R printers the opportunity to trade in their machine for one of these upgraded models to grow with your volume demands now and into the future. The 16" L2 is quite a jump in speed from the A3+ and A3+R and the XL2 is possibly the fastest 24" direct to film printer on the market today. Between the size and speed upgrades, these machines will allow you to take on production loads of any size.
But how does the program work?
• Your printer must be in proper working order. Good/Great condition
• The printer must have been purchased 6 months to 1 year from All American Print Supply Co.
• You must be able to provide proof of invoice/receipt of the item purchased within the last 6 months to 1 year
• You must be the original owner of the printer
• Our support team will need to individually approve and verify each trade in offer request on a case by case basis
• Return shipping/handling rates will apply
• On-site training/installation is required for all L2 or XL2 purchases (price depending on location)
You can find full details about the program HERE.

These machines also qualify for the DTF Station 0% Financing promotion! Contact your sales rep or reach out to us directly for more information on how to get the best in DTF today!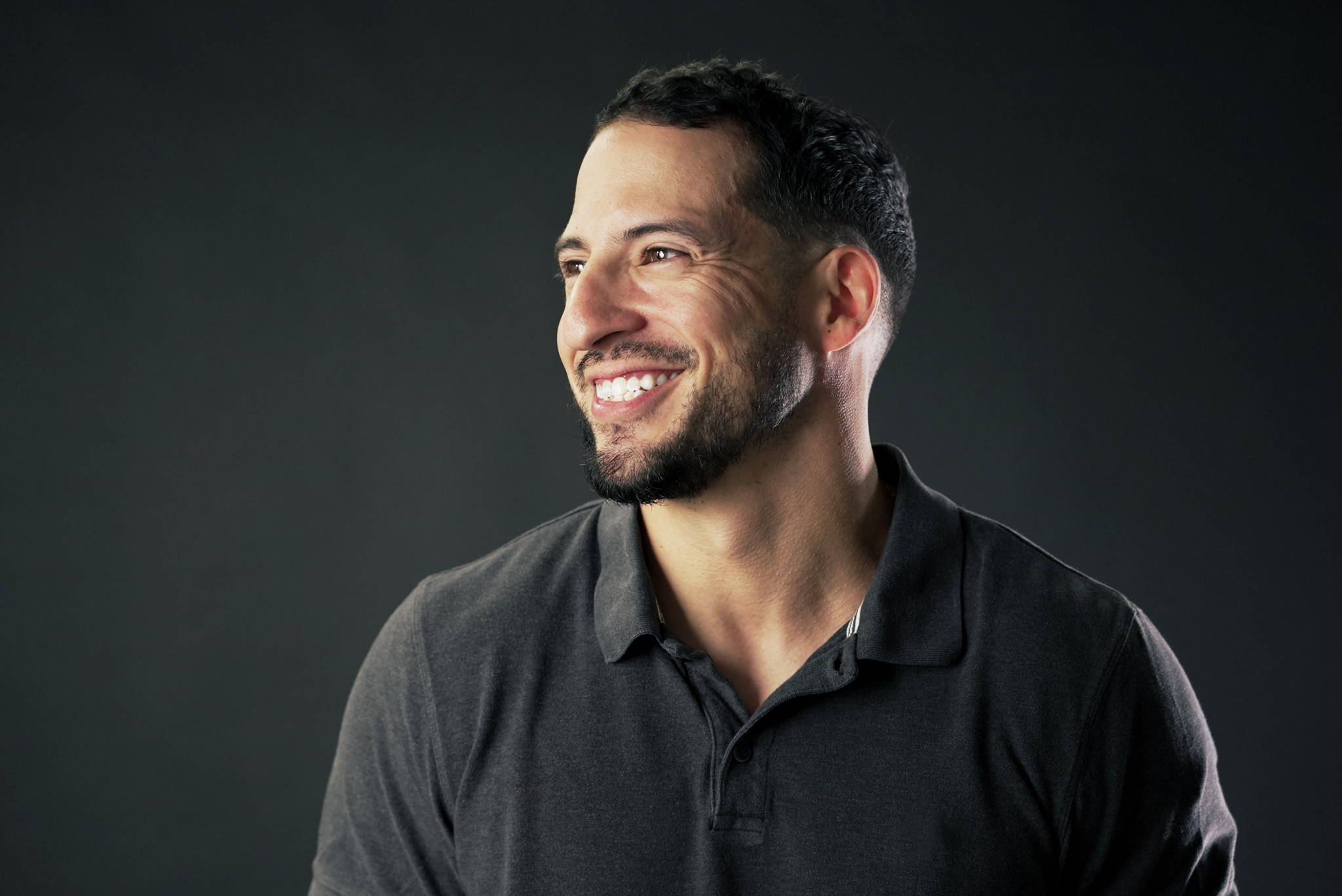 Esteven Romero began making YouTube videos back in 2017 to help new business owners learn how to use their products and grow their operation.
He has been featured in many companies' content such as Siser North America, Key Print Co and more. He has been featured as a speaker/presenter nationwide across the tradeshow circuit sharing information and insight to the print community audience and brings 13+ years of experience to the table.
You can meet Estevan and more of the friendly All American Print Supply Co team by visiting the company live events calendar and our YouTube channel.