Prestige a4 Desktop DTF printer

"Every sunset is an opportunity to reset. Every sunrise begins with new eyes.

"
If you have been on the fence about taking the jump into direct to film printing THIS ARTICLE IS FOR YOU. Or if you are already printing DTF at this time you can keep reading too. You might need another printer. Allow me to formally introduce the latest offering in the DTF Station direct to film printer family tree: the Prestige A4. This desktop DTF printer is going to help so many people expand their current product offerings and streamline their manufacturing process. Did I mention it comes in three fun colors? Let's talk about it.
As far as specs, this machine is desktop sized meaning it can easily integrate with your existing equipment. Measuring in at approximately 23" x 14.25" x 12.2", this small DTF printer can slot right in without any major changes-CONVENIENT. Now don't let the small size fool you, this machine is FAST. Boasting a higher output speed compared to its former desktop predecessor this machine will produce transfers at a rate of 9 sq. feet per hour. That comes out to almost 80 transfers printed in a day!
The DTF desktop printer is not just a fast and furious means of custom apparel manufacturing, direct to film will change your business. Most of us start our journey with a cutter and heat as a transfer vinyl and while this can be a great way to get started it may not be the most efficient way to scale a business as things get busier. Especially if you are looking to produce multi color designs. Not only in one job send can you produce high resolution graphics for heat transfer applications there is NO LIMIT on the amount of colors we can print. In addition, if you were to compare price analysis on designs of the same size EVEN IN A SINGLE COLOR we are looking at a cost savings per print as well. Faster, cheaper, better AND less labor intensive. No weeding. Need I say more?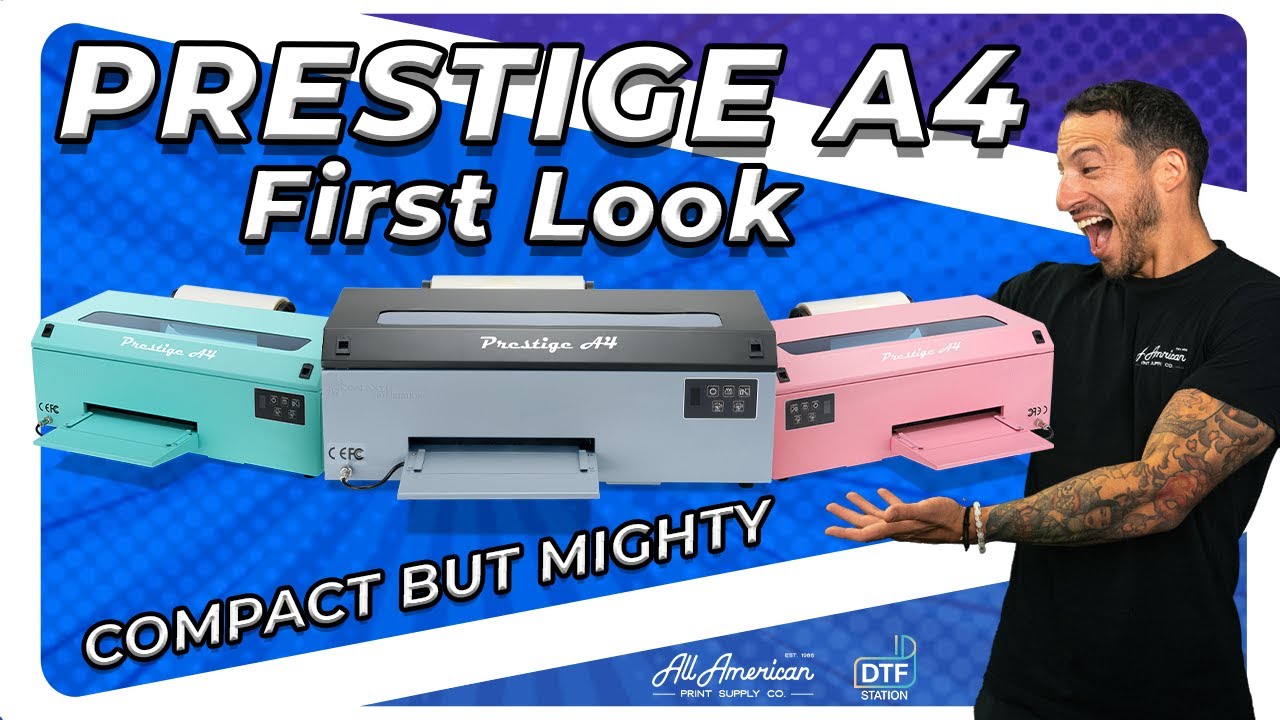 The other popular method of entry level custom printing is SUBLIMATION -which is great, don't get me wrong but just like everything it has its limitations. For one thing, there is NO WHITE INK meaning dark fabrics or material other than white are not going to be options. Speaking of fabric, sublimation is formulated to work with as high a % of polyester as possible (ideally 100% for best results).
In my opinion, the true value in sublimation lies in hard surface products and not necessarily apparel. There are garments that are produced entirely with sublimation and beautiful all over prints but that would not typically be what the focus is on a desktop sublimation printer with the print width being smaller.
The direct to film process is so popular in part due to it's near ENDLESS material compatibility. DTF transfers can safely and securely apply to cotton, polyester, blends, rayon, nylon, silk, denim, canvas and hard surfaces as well. Basically ANYTHING you can get even contact on with a heat press can be used in DTF printing.
The machine can handle individual cut sheets and is also equipped with a roll feeder mechanism - meaning you can print your single jobs on the fly when needed as well as run continuous production with the inclusion of a dedicated powder machine. That's how you scale a small business. Warranty and training provided at no extra charge to ensure peace of mind and proper operation. Surely to be something for everyone with your choice of pink, mint green or classic black and gray expect to see lots of Prestige A4 desktop direct to film printers making waves this fall.

Esteven Romero began making YouTube videos back in 2017 to help new business owners learn how to use their products and grow their operation.
He has been featured in many companies content such as Siser North America, Key Print Co and more. He has been featured as a speaker/presenter nationwide across the tradeshow circuit sharing information and insight to the print community audience and brings 13+ years of experience to the table.
You can meet Estevan and more of the friendly All American Print Supply Co team by visiting the company live events calendar and our YouTube channel.