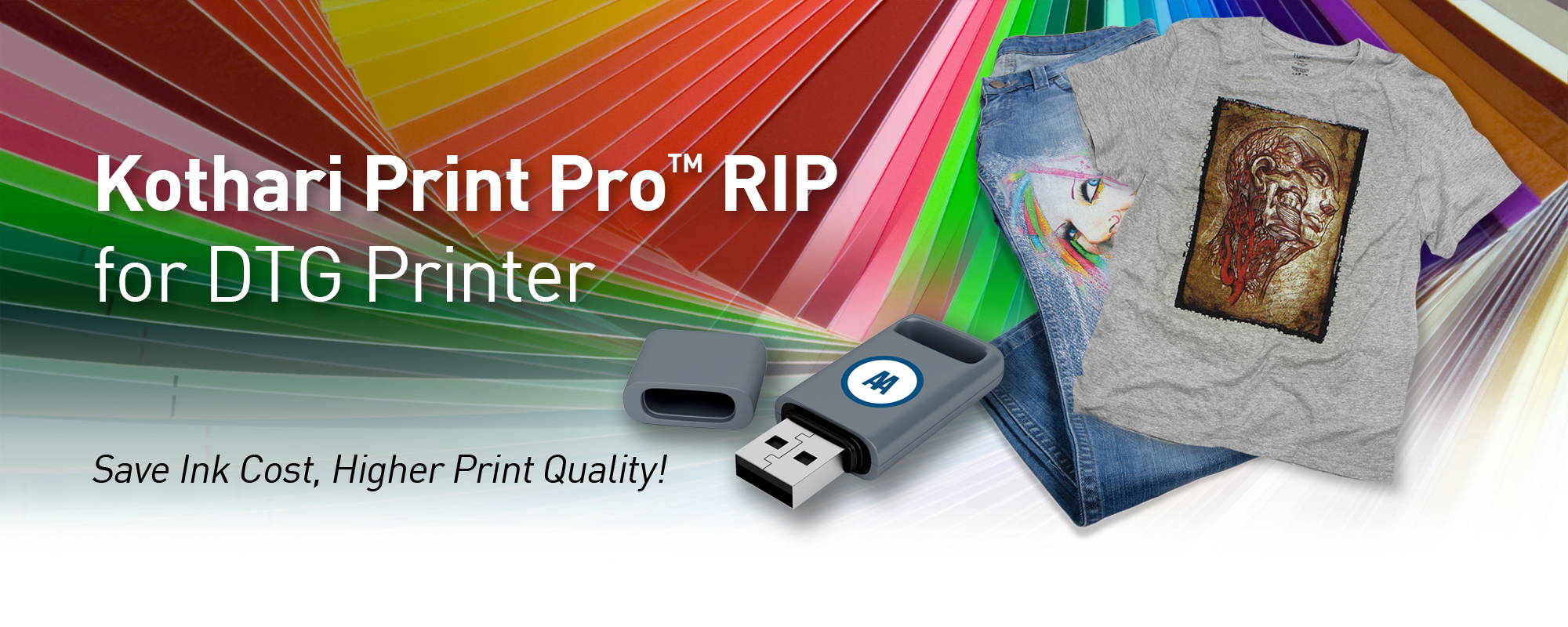 Kothari Print Pro Rip Software
Having been in the commercial t-shirt printing industry for the better part of the last decade, I recently entered into the world of direct to garment printing. My screenprinting shop has benefitted from our local customer base and we regularly receive orders from schools, church groups, sports teams, businesses, and more. My screen printing setup gladly fulfills these orders but we receive smaller custom requests of multiple colors such as photographs or custom artwork. I was outsourcing these jobs to local print shops since I didn't have the ability to fulfill them myself but the regularity of these individualized requests ultimately led me to look into direct-to-garment machines and ultimately invested in the Epson F2100.
With the initial cost of the Epson, I chose to stick with Garment Creator, the free rip software provided by Epson. Garment Creator was easy to learn and allowed me to enter into the dtg market without a huge learning curve. It is a straightforward software that provides straightforward results – there is no true color nuance to the prints and is most ideal for images with flat colors. Garment Creator is rudimentary and simply provides the ability to send an image from your computer to the printer. Garment Creator got the job done but it fell short in maximizing my printer's potential.


Unable to fully grasp why I wasn't getting the print quality that I saw elsewhere, I checked in with a technician at All American and we deduced that my final product was from failing to use a proper rip software. I was hesitant to simply take All American's recommendation for face value and I explored different rip software options on various forums and group pages. I wanted to test them first-hand and narrowed it down to the top three softwares that I came across through my research:
C-Breeze
,
Digital Factory by CADLink
, and
Kothari
. I will break down my experience with all three based on the software costs, user experience, ink cost savings, and final quality.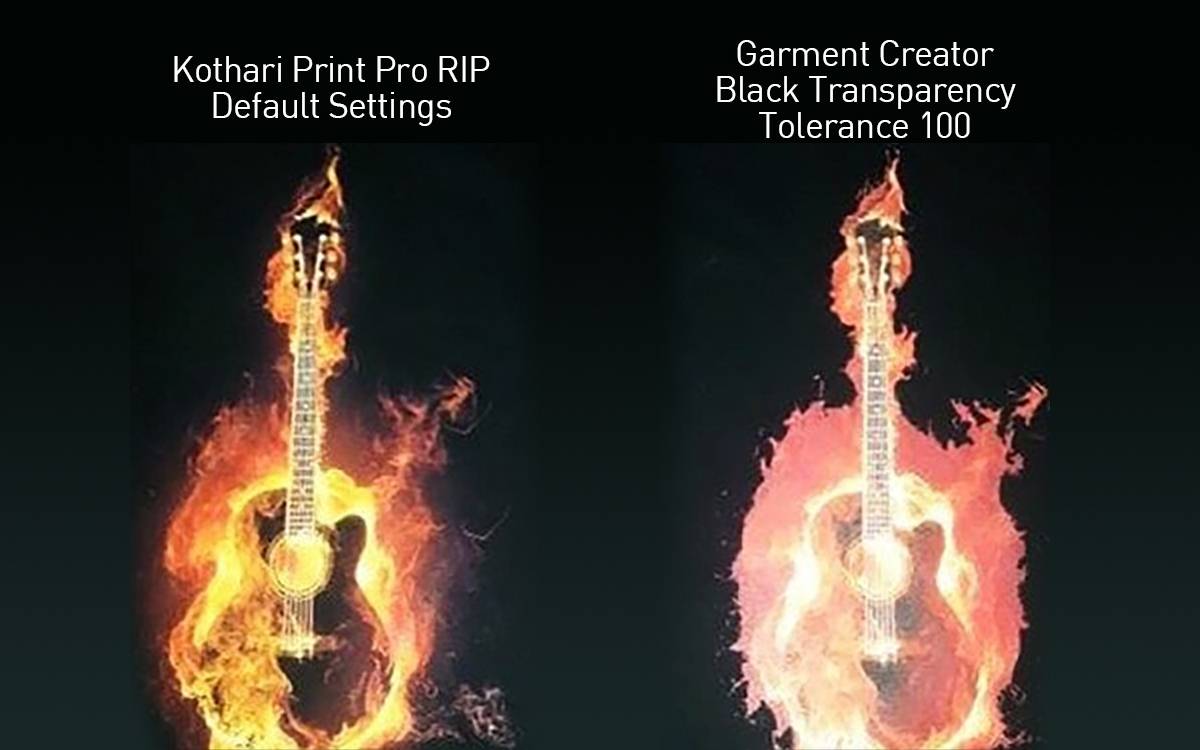 Costs for Software & Trials
C-Breeze has the lowest price tag of the three at $399 but seems to regularly be discounted at $299.


The price for Digital Factory was nowhere to be found on the actual website and I had to reach out directly in order to learn the actual price of the software. I was quoted with the price of $695 but it may have changed since. Digital Factory does offer a free 30 day trial to test the full software before you are required to purchase it to continue using the software.


I was able to try a 15-day trial version of Kothari from All American for free since I purchased my printer through them. The trial version can be purchased for $100. Kothari is priced at $1,200 but since I previously purchased my printer from All American, they offered me a discount and I was able to get the software for a one-time cost of $840.
The ease and functionality of each rip software ranged heavily. C-Breeze has a simple enough interface to navigate without having to refer to an in-depth tutorial. However, I can't help but assume that the low price point of C-Breeze hinders their ability to invest into the software for further development as I experienced constant glitches and had to restart the program multiple times to complete an order. This is not ideal when my customers are expecting their orders within the timeframe that I had assured them of. Also, the steps required to print on a dark shirt are redundant as I had to assign a white mask/underbase first and then go back in to print the image with the colors. C-Breeze does not have the ability to support transparency and thus the white layer is an additional step. Anyone running their own business understands that time is of the essence and C-Breeze took up more of my time than was ideal or necessary.


CADLink Digital Factory was the most complex of the three softwares. I am relieved that I discovered the complexity during the free trial period as it led me to look elsewhere. While I want to provide quality prints for my customers, I also know I do not have an unlimited amount of time to become familiar with Digital Factory as I had my orders to fulfill. I needed something that was easy to use but still provided a quality that I felt confident to provide to my customers.


Kothari's interface is more dynamic than C-Breeze but much more user friendly than CADLink Digital Factory. Once I received the trial version, All American sent me a follow-up email with the links that were necessary to complete installation. I was easily able to find what I needed after watching the installation guide and training videos posted on All American's youtube channel. While the interface appeared overwhelming at first, watching the short videos was informative enough for me to get started without having to talk to a technician or representative.
I was impressed by Garment Creator's ability to calculate how much I was spending on ink per print. With each rip software claiming to be able to provide me savings on ink, I was surprised that C-Breeze did not easily calculate the ink cost for me. It is a rather manual process that requires manual processing once prints have been processed.


Kothari's ink cost calculator allows me to enter the price I paid for each ink cartridge and the size of each of the cartridges. By inputting my own personalized costs, Kothari automatically calculates the cost of each print based upon how much ink was used. When I compared the same print on Kothari and Garment Creator, I was saving an average of $1 for each print.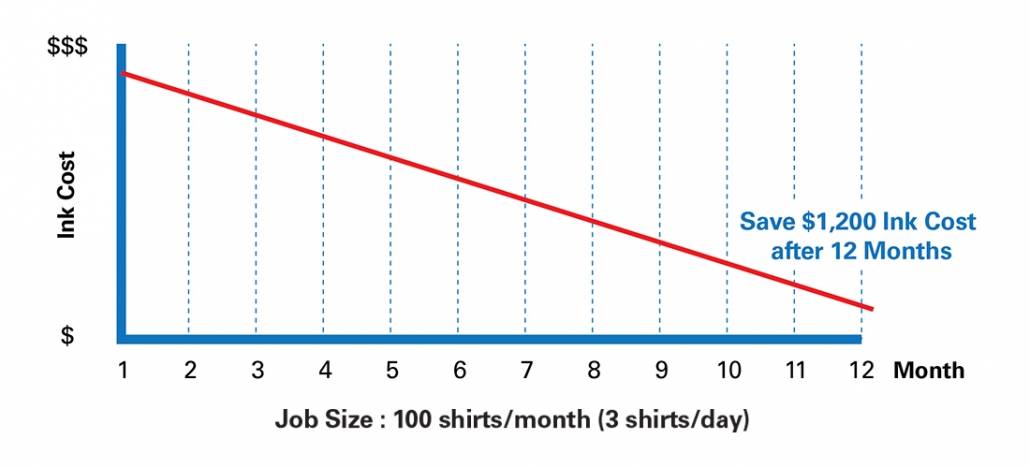 Color Management and Quality
When comparing the same image printed on the same garment type but through the different rip software, the color accuracy from the original image on the screen and the image on the garment were painfully obvious. While all rip softwares boasts their ability to control the layers of white and improve color accuracy, the final products proved otherwise.

The same image printed through C-Breeze was entirely off from the image that was on my computer screen. I ran the print several times in order to get my desired result but ultimately decided to run the final print through Garment Creator instead.

The most convenient part of Kothari is the pre-set environment settings. There are different modes including: high resolution, production, ultra, and economy. Each printing mode also provides for the different garment colors including: white, black, red, charcoal, light, green, and silver. The color gamut through Kothari led to superior results in gradients, fades, and color transitions.

Kothari is intuitive and will not lay ink on areas of the garment if it can use the garment's color to complete the image. If you are printing an image with black onto a black garment, those areas will not have ink sprayed on it. This allows me to save ink on the total cost but also makes the shirt feel lighter and more breathable.

*Fun fact: Tshirt Forum used to host a DTG Battle Royale where different print operators would compete for the best print. Participants disclose the printer, pretreat, and rip software that they use and the winner of the battle royale was using Kothari for the winning print!
Washed winning prints: source: https://www.t-shirtforums.com/threads/congratulations-to-the-2nd-annual-dtg-battle-royale-print-competition-winner.206895/#post-1206050

Digital Factory offers remote technical assistance where technicians can troubleshoot your software for you and fix any bugs you are experiencing. Each instance will cost $75 or you can subscribe for on-going unlimited support for a $299 annual fee. You can contact CADlink's technical support here.
One thing I noticed on Tshirt Forums was C-Breeze and their interactions with customers. I was impressed by how responsive they were to users inquiring about various topics to user posts. If you purchase C-Breeze through Melco, you can receive technical support through Melco's representatives.
At this point, I haven't had to speak to anyone beyond the staff at All American when I needed any assistance with Kothari. I did a check in call with someone at All American to have a guided walk through to make sure my setup was ideal. After this initial interaction, I was able to connect with a technician at All American that assisted me through any confusion that I could not resolve myself through Team Viewer. Watching the technician navigate through Kothari was all I needed to get my prints to a quality to my liking.
Kothari and DTG Barcode Automation System
This past year, our online store has been overflowing with orders that range from custom requests and orders of designs that have been of popular demand. I've been closely communicating with the team at All American regarding their DTG Barcode Automation System after tuning into the Webinar. Since I've already integrated the use of Kothari Rip Software into my daily production, implementing the barcode automation is a logical step towards improving my work flow while minimizing print errors.
I am excited for the potential that the dtg barcode automation system will have for my business, specifically in increasing my productivity and facilitating the organization of my business. With Kothari and the barcode automation system, I can rest assured that my customs are receiving quality products that they are happy with.
If I could, I would have chosen to purchase Kothari when I first purchased my dtg printer. While every opportunity is a learning experience, there are some lessons that could have been achieved easier. I highly recommend anyone looking into a dtg printer or a rip software to try Kothari to provide quality prints for your customers!
This testimonial is a contribution written by an All American customer. They have been compensated for their time and feedback. Any modifications and graphics added by All American have been approved by the original contributor.


If you're interested in discussing your options, please feel free to email us at info@dtgmart.com, give us a call at 714-576-2900, or visit our product page here.