Uninet iColor White Toner Printer vs Epson F2100 DTG

What is it with these Uninet iColor White Toner Printers?

Here at All American Print Supply, Uninet iColor White toner printers are one of the most popular products we have. Case in point is the Uninet iColor 560 which is generally regarded as the "Swiss Army knife" of printers for its multiple functionalities. Let's see how it goes against our Direct to Garment (DTG) Printers.
Uninet White Toner Printers offer low costs and versatility in the production of on-demand printing. Have amazing ideas for printing designs? The customization possibilities are endless. Initially used to print on t-shirts, now you can print on a wide set of other substrates such as garments, labels, product customization, office stationery, banners, hard surfaces, marketing materials and more! Widen the opportunities of your printing business by transforming blanks into marketable creations.
What are its common features?
The common features you can find among Uninet White Toner Printers are the following:
Print highly opaque white as an underprint and overprint in the same machine, in one pass.

Capabilities to use specialty toner upgrade kits (dye sublimation, fluorescent, clear and security toners).

Use regular or specialty cartridges so you don't need to purchase different machines for each function.

Toner-based ink system doesn't require maintenance associated with an ink-based machine and it has lower costs compared to traditional

sublimation.

You won't get clogged printer heads when you don't use them.

No more waiting time for ink to dry up!

Toner has a longer expiration date.

Its dimensions are space-efficient.

Budget friendly for when new entrants in the industry.
The Uninet iColor 540, 560 and 650 provides full-color prints with a brilliant white. Choose it for options of fluorescent and sublimation toner kits, merged with true black printing. It easily works as a sublimation printer for your business needs!
Pick the iColor 800W, which has the whitest whites, and the most vivid color reproduction in the industry, for medium to high-volume digital production of garments and hard surface items.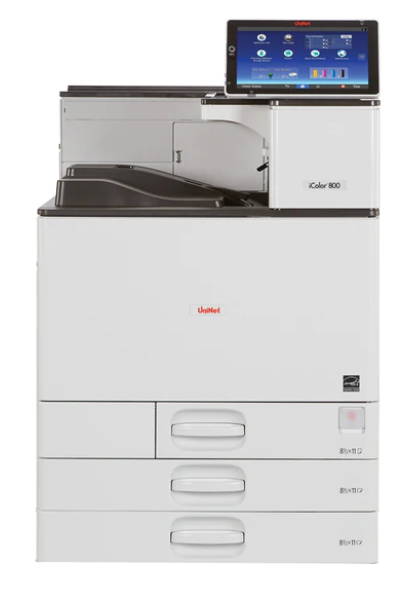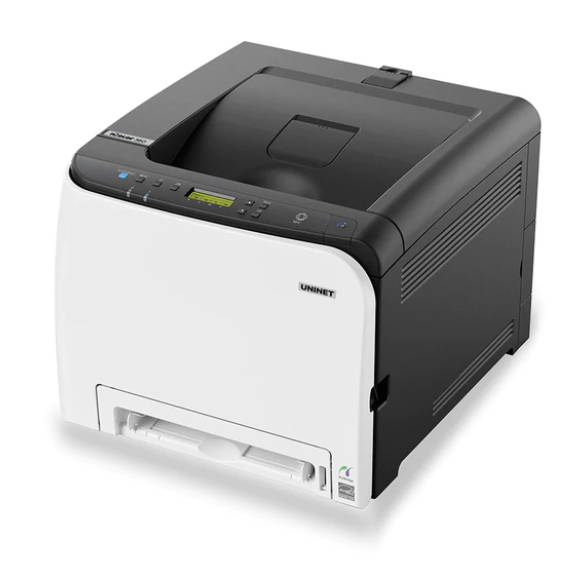 How to Print using the 2-step Transfer Method:
Load the paper with the matte print side facing you.
Open the ProRIP software
Make sure the design fits the print area.
If the heat press hasn't been used for awhile, press it down for 5 minutes without anything on it just to preheat the bottom platten.
Place the transparency on the heat press with print side facing up
Take a paper with an adhesive. With the adhesive side down, cover the entire print.
Place a craft paper or a Teflon sheet on top and press down the heat press for 120 seconds with medium pressure.
Once it's lifted, take out the craft paper or Teflon sheet and rub a piece of textile over the top of the adhesive for 5 seconds.
Peel the sheet away diagonally and slowly without making any stops to void any lines on the design.
Cut away at the outlines to remove any adhesive residue.
11. Grab your shirt and place it on the heat press. Then, position the print on the desired location of the garment.
12. Place a craft paper or a Teflon sheet on top and press down the heat press for 30 seconds with medium to high pressure.
13. Take away the Teflon and take the garment off the heat press.
14. Let it cool down for about 5 minutes. Speed up the process by rubbing a piece of textile against the print to dissipate heat.
15. Pull the transfer sheet away from the garment diagonally and slowly.
16. To make sure you can wash your garment, put it back on the heat press with the Teflon sheet on top and press down the heat press for 20 seconds.

View the 2-Step Printing Process on a T-shirt below:
Switching to Sublimation Toner to Use as Sublimation Printer:
Make sure that the printer is turned off and open up the lid, take out the toners, and replace with the dye sublimation cartridge.
Go to the RIP software and make changes.
Print your design.
Lay out your substrate and put the design over it. You can hold down the design with heat-resistant tape.
Transfer it on the heat press machine for a press down and set the pressure and time depending on the substrate you're using.
After the heat press is lifted, you can now peel off the copy paper away from the substrate.
As you can see, using the Uninet White Toner Printers as a sublimation printer can make production faster compared to the 2-step transfer method. And you can choose between these two methods using just one machine! It's all about finding out what's best for your business needs and budget.
What is Direct to Garment Printing?
The Direct to Garment (DTG) printing is different because you don't need to transfer your design on a sheet of paper. You can print directly on your garment! However, you are required to pretreat your garment and dry it on a heat press. After printing the design on the garment, you'll have to take it to the heat press again to make sure the ink has fully dried. All of these to assure you could get high quality and detailed prints directly on your garment.
Here at All American Print Supply, we carry DTG Printers such as the Epson SureColor F2100 and the Epson SureColor F3070. You can quickly load your garment on a platen and boost your productivity with the integrated self-cleaning system on these machines. Its use of Epson UltraChrome DG Inks will give you durable, vibrant and safe, with outstanding color performance that your customers will surely love!
How do the Uninet iColor White Toner Printers compare to Epson Direct to Garment (DTG) printers?
Whether you get a white toner printer or a direct to garment printer, you are sure to make a profit whether you're printing on-demand or for large-scale.
Benefits of Uninet iColor White Toner Printers
Compact Size
Uninet iColor white toner printers are small-format printers. It only requires a small desk to place the printer onto and a place where you can have your heat press.
This is one of the major reasons why most of the customers decide to go with the White toner printer.
Versatility
You can make your printer print on multiple substrates. The most popular type is definitely apparel but with a few configurations change, you can transfer and decorate onto mugs, create tattoos, candles, metals, stickers, banners, rubber, and more! You can even use this printer to print on regular papers and use it as an office paper printer.
Less Maintenance
Since the printer itself is a paper printer that uses laser toner inks, there are absolutely no maintenance requirements. You also do not have to worry about head clogging even if you don't use the printer for over a few months.
Efficient workflow
Some might disagree on this but it is one of the simplest methods of transferring images onto substrates.
* printer prints onto a transfer paper
* marry a and b paper with a heat press
* heat press the married papers to the substrates/ apparel
Lower Initial Cost and Easy Setup
Typical DTG printer price starts around $15K, with Uninet iColor 560 being $3,695, it's a great way to start your business from home. You also don't need professional help in setting up the equipment
Benefits of Epson F2100 DTG Printer
Details In Print
Epson F2100 DTG printers can achieve high resolution up to 1440x 1440 or 1440x720 whereas Uninet iColor white toner printers produce 600 x 600. You may not notice the difference on lower resolution graphics but you will notice the difference once you get into printing high-quality photos. Printing gradient images and fade-away images are done only with direct-to-garment printing.
Wash fastness
Currently printed, cured DTG can last longer than the White toner transfer printed images. You can wash them up to 50 or more washes on DTG printed shirts.
Hand Feel
Softer hand feel is the biggest reason many customers decide to move forward with Epson F2100 DTG. DTG inks soak into the garment so that it creates a better hand feel vs Uninet white toner printers put a transfer on top of the garment which creates an additional layer.
Cost per print
Compared to the Uninet iColor White toner printers, the cost per print on the Epson F2100 DTG printer is much more economical. Although the initial cost of the investment is higher, If you are more concerned about ongoing consumable costs/ cost per print. DTG is a much better choice
Warranty Service
You can add up to 5 years of full warranty that covers bumper to bumper.
If your printer is down, you can simply call Epson support and they will be available at your location within 24 hours to 48 hours.
Please review this warranty statement for more details
Scalable/ Industrial
As more clients choose DTG to fulfill their orders, backend systems were improved, you can easily integrate with multiple systems and utilize barcode scanning to fulfill orders. To learn more, please visit this blog for more details.
As you can see, there are pros and cons to either machine! It depends on your personal preference and business needs since they provide great custom solutions for your customers. If you are more on producing a fashion line, apparel, and home design then you can opt for the Epson DTG printer that will be more compatible with garments and textiles. For the personalization of on-demand shirts, plates, signages, brochures, labels, and more, go for any of the Uninet iColor White Toner Printers.
If you are still not sure which one is right for you, please feel free to submit your questions by submitting a form here.